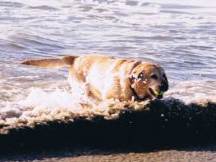 "Cricket" Panikowski – right elbow and carpus OA, hip DJD
Thank you, thank you, thank you. Because of your exceptional care, Cricket has returned to her beach runs, daily walks and other adventures. At nearly thirteen years of age, Cricket runs like the young pups at the beach. When we had our first appointment with you, Cricket could put very little weight on her front paw due to a bone spur. And her back legs were stiff and sore from arthritis. Our goal was to improve her quality of life by relieving her pain, building strength and increasing mobility. We hoped she could return to "her" beach, but we knew it might not be possible. Thanks to your kindness, brilliance and spot-on treatment, we have our Cricket back. She is happy, healthy and loving life as a beautiful yellow lab!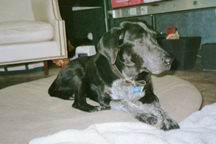 "Grey Socks" Lankford – hindlimb paraparesis
I wish to share our experience with Maja Wichtowski as an experienced and professional diagnostician and therapist in the field of animal rehabilitation.

Our 15 year old male lab's survival was severely compromised by an unknown episode leaving him unable to walk. After heavy doses of steroids and little or no improvement, the vet's recommendation was to euthanize our old friend. Two hours before the final appointment, Maja called my cell and introduced herself, saying she would like to massage Grey Socks and see how he may respond.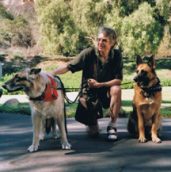 "Bingo" Hill – severe OA and boney changes bilateral stifles, hind limb ataxia/loss of proprioception, hind limb atrophy
Bingo turned 12 today! A few months ago, I did not think this German shepherd with very arthritic knees would be alive today. He started having trouble getting up, would drag his hind legs till his toe nails would bleed, and often tripped on the rough ground. His hocks and sides of his feet had cuts and abrasions from him pulling himself in circles to try and get his hind feet under himself. After one session with Maja, I could see that he was walking better and now after 10 sessions, he rarely drags his toes, almost always has an easy time getting up, almost never trips and best of all we have been able to reduce the dosage of Deramax by half. And the sides of his feet and his hocks have healed. I would not have believed his comeback if I had not been there every step of the way. I know I will lose him someday, but I am so at peace with the quality of life he has been given.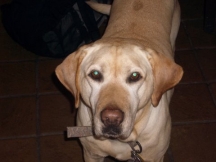 "Ben" Thorpe – Severe DJD right elbow, severe, debilitating IVDD
Thank you, thank you, thank you. For your guidance, wisdom, and confidence that our old yellow lab would be able to enjoy a romp once again. When you first met Ben he was in severe pain, hunched over, and lacking in giddy-up.

Today he bounces around the house, leaps into the back of the truck, loves walks, and is eagerly enjoying life. We are so grateful for your personal, consistent, wonderful touch. We know Ben is better because you took the time to really care for him with all your heart and expertise. My wife and kids are very grateful.Thanks so very much.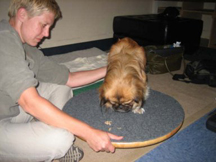 We just want to say thank you for everything that you've done for our family. From the momentCoco met you…you two had such a great connection. You helped him in more ways that we could think of. When we first brought him to you we weren't that optimistic, but just even after the first treatment we noticed a drastic change. That was actually the first night I got a good night's sleep because Iknew he was in good hands. Wenever thought that he would be back to normal without surgery.

Not only did you save us money, but most importantly you saved our little man. We always think of you every time I see him walk and run around without pain. His little sister loves having back. You saved a member of our family and for this we will be eternally grateful to you.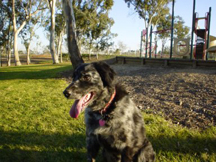 "Chequers" Lau – bilateral FHO complications
I want to publicly thank Maja for the wonderful job she's done for my hips. You see, I had two hip surgeries a couple of years ago, the kind that cuts off the femoral head. But they didn't work for me. I'm one of those special cases that don't grow the scar tissue necessary to form a new hip joint. So I had a third surgery this year because I couldn't walk any more. That's when Maja came to my rescue after surgery.

She massaged me and stretched me. She found spasms all over my legs that my mom didn't know about. She used laser to take away the pain all over me and put sticky electronic stimulators on my hips to help me grow new muscles. She taught my mom how to do therapy for me in the ocean. Can you imagine how cool it felt on the hottest days this year when you guys were probably out there panting your heads off?

Maja also sent my mom home with all kind of exercises that I hate, but, hey, look where I am now! I can walk, jump, run, chase anything I want and drive my mom crazy again. I don't mope any more. Life is grand. Maja also recommended herbal supplements that are good my joints and that taste like the kind of food I like. I take them every day. But the best part is, Maja's got loads of treats in her office and she's not stingy with them. I can smell them from the parking lot.

So don't live in pain any more. Go see Maja. She's good for you.

In canine solidarity,
Chequers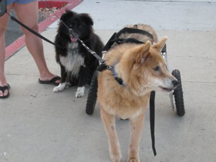 "KC" Weaver – IVDD, neuropathy
My dog KC is a 12 ½ year old shepherd/chow. In May, she was diagnosed with bulging discs in her back. Because the discs were putting pressure on the nerves that controlled my back legs, she was falling down a lot and could hardly walk. We were using a wheelchair and helping her with a harness. We brought her to Tsavo's Canine Rehab in August and after 4-5 treatments she has greatly improved, we don't have to help her walk around the house, and she can even go on small walks around the neighborhood. Today we even went to the dog park. She is off Prednisone, which we were afraid was going to be a permanent medication.

We were very impressed with Maja's treatment and the amount of time she spent with KC. She is very thorough, patient, knowledgeable, and she gives great advice.

We think KC enjoyed her time there, because when we showed up for the second treatment, KC headed straight for the door and didn't even wait for us. KC also told us that Maja has better dog cookies than we do. We would highly recommend Tsavo's Canine Rehab and I think KC would say the same!!!

Thanks for all your help Maja!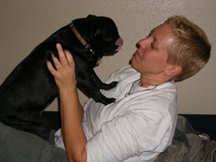 "Annabelle" Blanco – Bilateral Medial Patellar Luxation
First things first… Thank You, Maja for all you have done and continue to do for Annabelle.

When we first discovered that she was experiencing pain in her back legs and then found out that she would knee surgery on both back knees we worried about the pain of having surgery; then the pain of a long recovery she would have to experience. To add to our concerns was Annabelle's consistent skin allergies that were an ongoing battle to keep under control. Fortunately, after a friend's very positive experience with her furry family member, KC, and with the recommendation of Annabelle's vet Dr. Beail, Annabelle was introduced to Maja, who would later be proved to be her Guardian Angel.

Soon enough surgery was scheduled to reinforce both of Annabelle's back knees. We were expecting at least a 4-6 week recovery period so we prepared the best we could. We met with Maja a month before and she started treatments to build Annabelle's strength for a quick recovery and to help minimize the discomfort she was experiencing. We noticed a significant difference in Annabelle after her first visit with Maja. The inflammation in her legs was close to non-existent, she didn't have to take any pain medication and her activity level was back to normal. In addition, Maja introduced us to herbal supplements to assist Annabelle with her skin allergies.

Soon enough the day of Annabelle's surgery arrived. Again, our nerves got the best of us, but it didn't last too long because Maja was by Annabelle's side before, during and after the surgery. Wasting no time Maja started physical therapy treatments right after her surgery, which a month and half later has proven to make a difference we could hardly believe. From what we were told most dogs are able to stand and show a significant step towards recovery after 4 weeks. Annabelle was standing the day after her surgery. Please keep in mind; this is after surgery on BOTH her back knees. Two weeks later Annabelle seemed ready to go out and run wild.

We continue to visit Maja for treatments after her surgery and implemented additional herbal supplements for her joints along with home exercises, which Annabelle enjoys, to help continue build her strength in her legs per Maja's guidance. Annabelle's Guardian Angel, Maja, has given her the gift of a practically immediate recovery and painless future. If you are considering her treatment for your furry family member(s) we strongly recommend that you meet with her ASAP! You will find that not only will you adore her for her love of healing, but also your furry family member(s) will adore her even more.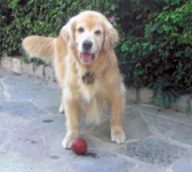 "Jake" Amen – Bilateral elbow DJD
What a difference in Jake after 4 treatments! My golden was suffering from arthritis to the point where his normal walks became too much for him. I was so worried about his quality of life. He was healthy in every other way at ten years old. Now he goes back for a "tune-up" occasionally, but is now back to running on the beach (his favorite), chasing balls and playing with his sister Maggie. He's like a new dog!

Maja is so loving and caring with the dogs, and treats them like they could be her own! We are all grateful to have found Maja! Thanks sooo much!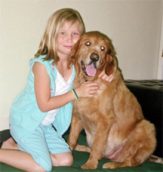 "Bailey" Spiker – Bilateral carpal DJD, Hip OA
I wanted to Thank You for all that you've done for our Golden Retriever, Bailey. She just turned 9 years old, and she thinks she's still a puppy. Bailey's favorite things are balls, treats and people, in that order. It was so sad when her arthritis was so bad that we had to limit her activity to walking a very short distance.

A few months ago her nickname was "limpos", because the arthritis in her front joints made her so stiff she would start limping any time she tried to chase the ball. For Bailey, chasing the ball is her main objective in life, and without that, she was not a happy puppy. In fact, many days she wasn't even able to walk, even a few blocks, without limping.

Thanks to your rehabilitation, Bailey is now able to play ball, run full speed, and surf the waves again. We never thought she would ever recover to this extent. We are amazed, and have you to Thank for her amazing recovery. We were skeptical at first…but no longer. It worked and we are so very grateful!

Just yesterday, my hairdresser called to get your number. Her dog also has arthritis, and I've been telling her about Bailey's rehab. She said that another client of hers had been telling her about her own dog's recovery from spinal disc problems. Her dog was not able to even stand, and now it can walk around the block. Come to find out…her dog was rehabilitated by you too!

Thanks for everything Maja. Bailey sends you love and wet kisses!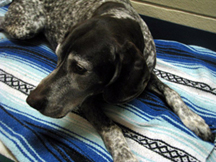 "Beau" Weaver – IVDD, Hip OA
Beau is a 12yr old German Shorthair Pointer, beloved in our family and described by my husband as "his best friend". When the day came that Beau couldn't climb on his favorite chair (or even stand properly) we were devastated. When his regular vet Dr. Beail recommended we try Maja's therapy along with his conventional treatment, we were not optimistic, but ready to try anything. Beau's improvement was immediate and remarkable! Beau loves his visits with Maja and though he still isn't a "puppy", he has moments where he could pass for a much younger dog. We no longer see him suffer, he moves well and Maja's reasonable and affordable therapy has made us all very happy and loyal supporters of her work. We would recommend her unconditionally!

Gratefully,

Valerie, Mike and Beau Weaver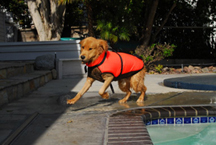 "Oscar" Worthen – Bilateral Elbow Dysplasia, Bilateral Shoulder OCD
Our ten year old golden retriever, Bogie, began to avoid stairs and groaned when sitting or lying down. We decided to take him to Maja as we wanted to avoid or postpone putting him on Rimadyl. Maja is great. In no time, she had him enjoying walks and maneuvering without pain again. He loved his visits so much that he probably hated his graduation! He'll now only see Maja for tune-ups as necessary. She is a wonderful person and professional.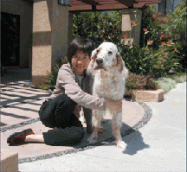 "Aristotle" Wang – Ventral Slot (C6-7)
Our dog, Aristotle, an English Setter, very suddenly developed a ruptured disc in his back, was in terrible pain and couldn't walk at all. He has surgery, which did allow him to walk again but he remained in pain, couldn't walk or run well and couldn't hold his head up. After just a few sessions with you and following the exercises you gave him, Aristotle is completely back to normal. He runs everywhere, jumps up on and over things and is simply just a happy dog feeling no pain. Thank you for everything; you did a great job with him.

Sincerely,

Richard Kolodner and Jean Wang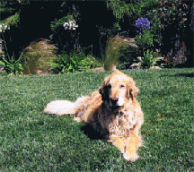 "Bogie" Bardsley – Hip OA/DJD
Our ten year old golden retriever, Bogie, began to avoid stairs and groaned when sitting or lying down. We decided to take him to Maja as we wanted to avoid or postpone putting him on Rimadyl. Maja is great. In no time, she had him enjoying walks and maneuvering without pain again. He loved his visits so much that he probably hated his graduation! He'll now only see Maja for tune-ups as necessary. She is a wonderful person and professional.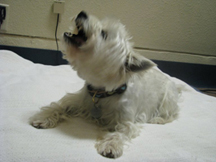 "Leo" Sinopoli – Right Medial Patellar Luxation
Our 2 year old Westie Leo had surgery for a luxating patella(wobblyknee cap, as I refer to it), andMaja wasinstrumental in getting him up and running in only a few short weeks.On day one,immediately after the surgery, Maja worked diligently with Leo to make sure he was at ease and out of pain, and applied laser treatments to reduce the swelling. By the time we picked him up the following morning, his swelling was minimal and he was already weight bearing, which put him ahead of his recovery prognosis. In the weeks to follow, I watchedin amazement as Maja's natural skill and talentin canine rehabilitation resulted in Leo being 90% weight bearing in his leg by the end of week 3.In addition to the laser treatments, Maja also gave us newexercises each week that helped strengthen Leo's knee and reduce swelling. By the end of week 4, Leo wasback on his twicedaily walks and enjoying romps in the dog park with his friends. We are now almost at 6 weeks, andLeo couldn't be better! The surgery was a success and Maja's rehabilitation techniquesgreatly aidedin his speedy recovery. Additionally, her ability to work within our budget was wonderful. Wecouldn't be happier with the service and professionalismwe received.

Kind regards,

Jennifer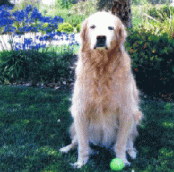 "Bob" Allen – Grade IV DJD elbows, carpals, stifles; IVDD
Our female Golden Retriever "Bob" is 12yrs old and is a "Maja Miracle". Last year Bob had her first visit with Maja. She had a severe limp which caused her to barely be able to walk and absolutely could not run. She had such spirit that she refused to quit trying and would want to play ball, even though she could only go a few steps and then lay down. Maja discovered severe arthritis and frozen elbow joints, and indicated that the 7lb tumor attached to her side was invading her shoulder muscles and was a large cause for her decreased mobility. We had the tumor removed immediately, then Maja stepped in. She started therapeutic massage and laser therapy. Then she went all out and researched a treatment usually used on horses. She even called the experts and personally talked to the doctors involved in this treatment to seek their advice. After going ahead with the procedure…Bob can now run! Although it's not far, it's enough to see how happy it has made her to be able to move again. She actually runs down the hall to go play ball and also runs up the driveway to go see her good friend, Maja.

Maja is one of those people who truly cares about making her patients better. She's not satisfied with just doing her job. She becomes friends with the family and shows real love for the pet. Bob trots right into her therapy room and knows she's going to feel so much better when she comes out. Maja's enthusiasm for her work is a wonderful thing to be a part of.

Jane Allen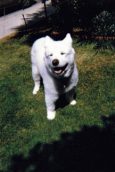 "Sebastian" Howard – Lumbo-Sacral IVDD, hind limb weakness
Maja has been treating our 12 ¾ year Samoyed for several months for weakness in the hindquarters. His progress has been remarkable, and we are now seeing Maja for once a month treatment.

The quality of his "senior life" has improved dramatically and he is enjoying his walks without the stress and pain. The "at-home" exercises are easy to do and don't take a lot of time. We would recommend Maja's treatment without qualification.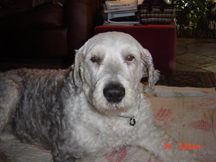 "Henrietta" Lucas-Mudd – grade III bilateral stifle DJD; spondylosis; severe OA @ metacarpals, metatarsals, phalanges, and carpals
Henrietta is my beloved 12-year-young Old English Sheepdog. A truly wise and beautiful soul, she can be very hard-headed and stubborn! As she ages gracefully, she is experiencing pretty severe arthritis in her spine and pelvic area, as well as moderate arthritis in her knees and front legs and paws. Needless to say, she is in pain, even though she continues to get me out for our walks every day, even up to 3 or more miles at times!

In the summer of 2008, our Vet recommended physical therapy with Maja at Tsavo's Canine Rehabilitation, to supplement the anti-inflammatory drugs, and all the natural and homeopathic remedies I give to her. We started the sessions at that time, and "Auntie Maja" came into our lives. Henrietta experienced relief with her first session, and continued to improve with each subsequent one. The thoughtful care and genuine love (and treats!) that she receives with each session has helped to not only relieve her pain, and strengthen her limbs, but she finally gave in to her stubbornness, and now returns all the kisses received from Maja! I know that this is Henrietta's show of gratitude to Maja because she understands fully that the massage and stretches are only meant to help her. Since we started the sessions, we now walk 3 miles or so several times a week, instead of just once.

Maja is extremely knowledgeable about disease, drugs, natural remedies and canine products. This information has benefited Henrietta and her continued recovery in many ways and we have switched to several products that have helped in her healing.

Now when people meet my girl, most of them are amazed at how agile she is and how great she looks for a 12-year-young dog! And I attribute much of this to the care, knowledge and expertise of Maja for Henrietta's rehab. I am so grateful to have Auntie Maja in our lives, helping my girl continue to age gracefully. Thank you for everything, Maja!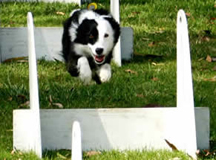 "Vegas" Matsumoto – post-op TPLO
There is no doubt in our minds that our 7 seven year old Border Collie, Vegas is doing so well because of Maja at Tsavo's Canine Rehabilitation Center. Yes, Vegas did have an excellent surgeon at Veterinary Specialties Hospital, Dr. Sean Aiken, who repaired her tendon in her right knee (TPLO). However, Maja really made the difference as Vegas transitioned from the surgery to rehabilitation. Maja bonded well with Vegas, worked with her weekly, and gave us homework exercises to do daily which strengthened the tendon and muscles in both of her legs. Vegas responded well and is now jumping and running again which was always a question in our minds. Vegas is now starting to get back to all the activities she once enjoyed, thanks to Maja and her rehabilitation capabilities.

We Cannot Thank Maja Enough and Recommend Her
Service to Any Dogs Needing Rehabilitation.
Brian, Joanne and Vegas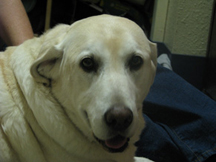 "Darcy" Page – bilateral hip DJD
Our yellow lab, Darcy, has had extremely bad arthritis in both hips for several years. When she lost mobility at the age of six, our vet convinced us to have surgery on the worst of her two hips.

The surgery went well, but no one prepared us for how long and painful the recovery process would be. Luckily, we found Maja and she introduced us to the world of pet rehabilitation. Maja worked with Darcy over the course of a few months and gave us weekly "homework" to expedite her recovery and make her more comfortable. Being a lab, Darcy's favorite activity was "cookie-to-hip", a strength-building exercise that provides constant treats!

Darcy recovered from surgery and enjoyed almost two years of a healthy, pain-free life before she once again lost mobility. The vet believed she needed surgery on her other hip, but we didn't want to put her through that again unless if was absolutely necessary. We agreed to put her on Rimadyl and with our vet's support, decided to try rehabilitation as an alternative to surgery.

After three visits with Maja, Darcy was a new dog. She was back to long walks and rigorous games of tug-of-war. Within two months, Darcy was completely off Rimadyl.

Every two or three months, we take Darcy to Maja for a "tune-up". We also took her advice to switch glucosamine supplements and purchase a brace to provide additional support on long walks. It's been over a year, and Darcy is pain free, remains off Rimadyl, and avoided a second surgery.

Maja is a remarkable person and a skilled professional who truly cares about her pet patients and their families. On more than one occasion, she helped us navigate through complicated choices and treatment options, always looking at what is best for Darcy.

Darcy loves Maja, as evidenced by her dragging us from the car to her office. Maja completely alleviated her pain, educated us on how to continue her rehab at home, and got her off a medication with known negative side effects. To give you some indication of how much impact Maja has had on our life, whenever our daughter comes home stiff and sore from a particularly rigorous swim team practice, she always muses that she wished Maja worked on humans!

At nine, our Darcy is 100% the powerful, mischievous girl she was in her youth—you'd never suspect she has severe arthritis. We are so thankful we met Maja and that she was able to work her magic on our very special pet.

The Page Family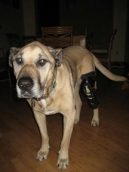 "Buddy" Lee – CCL rupture
We went to Maja because Buddy had torn his ACL during a run in the local canyon. He had been lame for over 2 weeks and was not improving. The vet had recommended that we keep Buddy still for a period of 6+ weeks so that his knee could heal. Buddy is a very energetic and active dog who routinely runs and jumps when excited. He had never been crate trained and he was in pain.

Surgery was not an option due to his "renal insufficiency" disorder (kidney failure) which had been diagnosed less than a year ago. His body would not tolerate and excrete the anesthesia properly. We were discouraged about the limited options until we met Maja. We wanted a course of treatment that was realistic for Buddy's temperament and restorative to his daily happiness and well-being.

In our first assessment visit, Maja came up with a treatment plan that included traditional physical therapy treatment (laser therapy and electrical stimulation), as well as diet supplements and home exercises. This was to build up strength in his hurt knee and leg, which had atrophied significantly. Also very critical to his recovery was to reinforce his hurt leg so that he did not injure any other leg due to overcompensation or further injure the bad knee. Maja referred us to a wonderful orthopedic brace company called Orthopets and they fitted him with a brace that has allowed him to be completely mobile and resume his normal daily, taxing activites (jumping up at motorcycles and UPS trucks, to name a few).

In a matter of 3 months, Buddy has recovered his strength in his injured leg and acts much more like a dog half his age. We are extremely grateful to Maja for all her insights and hard work to restore Buddy's strength, and most importantly, his character.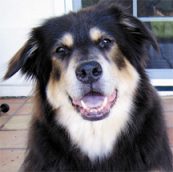 Scout Cooper – grade IV Hip Dysplasia
We were fortunate to meet Maja in May 2008, when our Shepard mix, Scout, was having increasing problems with getting up and walking. At 11 years old she was experiencingarthritisand hipdysphasia. She was on the typical conventional medications, but her condition was worsening. She wasn't able to get in the car anymore or stand for grooming. Maja came to the house and evaluated Scout — this is where the love affair began — and Maja put her on a plan oftherapeuticmassage, laser, exercises and herbs. Scout's improvement was almost immediate. As we progressed, she got much better and I was able to take her off pain medications. Recently, Scout went through the new PST program with Maja. Within the first couple of treatments, she was playing with her toys again and there was joy in her face. We were so grateful to finally get our Scoutie back. She will turn 12 years old this May, and thanks to Maja, her life is a happy one with, hopefully, many more years ahead.

Maja is a rare gem in this world. Her love for her work is extraordinary, her knowledge exceptional, and her devotion to our animals is absolute. We only wish we had met her sooner in our lives.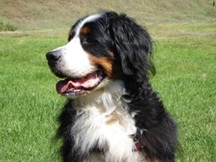 Emma is a 7 ½ year old Bernese Mountain Dog who developed Laryngeal Paralysis this past spring. She had the LP (unilateral tie back) surgery on May 20th. Emma started seeing Maja for canine physical therapy (cold laser therapy, e-stim, body work) in mid July, 2009 about 2 months post LP surgery.

At first Emma could only walk about 4-5 steps before having to sit down, now she can walk quite a distance before she sits down. With the continuation of acupuncture and Maja's kind and loving treatments she has improved by leaps and bounds. Emma is back to about 85% of her happy, enthusiastic berner self! She has started to regain lost muscle mass and range of motion in her limbs from lack of mobility.

Emma absolutely loves going for her sessions with Maja and actually becomes quite excited when she sees her. We are so grateful that Maja was referred to us and we would not hesitate to recommend her to any pet owner. We look forward to once again being able to go on nice long walks with Emma soon!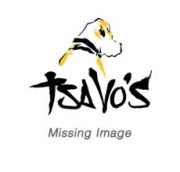 Delilah" Feigl – IVDD, CCL rupture, Carpal DJD
My very old golden retriever suddenly had a ligament torn in her right knee and was in tremendous pain. The regular vet could not offer surgical reconstruction of the ligament because she was almost 13 and was not a good anesthetic candidate due to her other conditions. They prescribed pain medication and glucosamine supplements.

Maja Wichtowski from Tsavo's Rehabilitationwas very knowledgeable about treatments to cut down on pain and speed healing. Delilah is now walking well with a brace and is pain free. I am very happy Maja was recommended to me.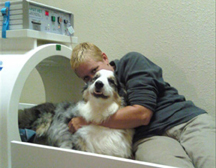 "Cooper" Goodlett – bilateral hip dysplasia; spondylosis
This letter is to let you know how wonderful we think you are and Thank You for all the work you did on Cooper.

Cooper began your Pulsed Signal Therapy in 2009. Since then we have had such wonderful results. Although he is young, he has had ongoing issues with his hips and we did not want him to have to be on drugs for the rest of his life. After the PST therapy he is able to run, play and jump like other dogs his age and breed. We still limit his activity to prevent further damage but boy does he have energy now.

Due to his active lifestyle we returned to have his back treated with the Pulsed Signal Therapy after he injured it working our horses. He had such a hard time being able to get up. Again, you and the PST worked its magic! He is now drug free and able to work on a limited basis. He loves to jump, play and run. The exercises you provided to us have helped to strengthen his hips and back and keep him feeling his best.

Thank You for all that you have done, we know that without you Cooper's life would be miserable.

Rose Goodlett
Rockin G Foundation Quarter Horses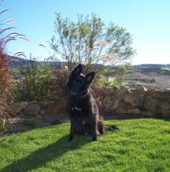 "Java" Taylor – bilateral stifle DJD; hip dysplasia
My name is Java and I am a 13 ½ year old Belgian Shepherd. I developed some arthritis in my back knees in addition to hip dysplasia. It became painful for me to climb the stairs and play chase with my mom and dad. I used to live for my daily walks, but those were no longer enjoyable for me. All in all, I had become an old lady dog and my people felt so bad for me. My vet put me on some medication for the pain, but also recommended that I see Maja.What an incredible difference she has made in my life! I see Maja every few weeks and she makes me feel so good! She massages me, finds all of my tight spots, stretches my muscles and uses a cold laser on me to help with my joint pain. She also feeds me lots of treats and I now have her trained to break out the good ones when I am there. I always go home feeling like a new dog! I enjoy playing with my people and have energy for longer walks or even chasing bunnies in the yard! I can once again make it up on the couch (mom loves this) and into the car and am able to follow my people up and down the stairs.

Maja also recommended exercises for me to build up my doggie butt muscles (look out J Lo!) and helped my mom find some supplements that work well for me. My mom and dad think my eyes are brighter and that I look better in general. I think it is because I feel so much better and my aches are dramatically minimized. Maja, thanks for making my golden years so much better! I look forward to many more visits, so you had better stock up on the treats!

Xoxo,

Java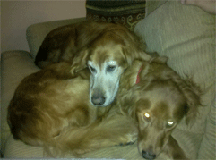 "Sampson" Olson – post-op CCL repair
Hi Maja!

This is a picture of us after you've helped us soooo much since we moved to San
Diego. I am the big brother Sampson & I tore my cruciate & had to have surgery. Because mom's life is crazy, we did surgery in Colorado and came back home for me to recuperate. After PT, laser treatments and lots of good excersises, I am better than new!! My little brother Scout just got to come visit and get a massage. He was afraid at first, but I told him it would feel really good!! And that you didn't mind when I drooled on you! Then I also got really allergic to all to plants & fleas here since I only know snowy winters. You helped mama find us good stuff to put in our food & not make us scratch and she (FINALLY!) took off those silly cones! Thank you for all you have done for us!!

(No we didn't type this but when mama woke us up for the pic she just said "Maja" and we were ready to come see you!!)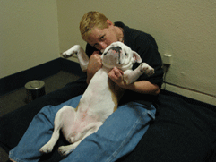 "Winnie" Blackwell – Hip Dysplasia, partial CCL rupture
We first met Maja, when our English Bulldog, Winnie, was diagnosed with a partially torn ACL. At the time, the recommended course of action was surgery, which, for various reasons, we were hoping to avoid… Thank goodness our vet recommended we talk to Maja…

Maja offered several possible alternatives for Winnie – some of which were not even services she provided… from the beginning, it was clear Maja was thinking about what would be best for Winnie! We ended up trying a series of pulsed signal therapy (PST) sessions for Winnie, and we are true converts! Winnie was soon out running and jumping and chasing soccer balls like nothing had ever happened!

We continue to see Maja on a monthly basis, because, like 99% of English Bulldogs, Winnie has hip dysplasia. We're hoping a bit of "preventative therapy," will help keep her pain free for as long as possible… With the way Maja is constantly reading up on the latest research, we're sure Winnie is in the best "therapy hands" possible!

As bulldog owners, we have visited many vets, specialists, and hospitals all over town. Maja is one of a select few that truly dedicates her life to caring for our "furry friends"! Her love, dedication and professionalism are indicative of the great results we have seen. There is no doubt in our mind that Winnie remains extremely active and pain free because of the skill and care that Maja provides. Winnie cannot wait to get into the office for her monthly check up and treatments and truly reacts to Maja as a member of our family.

Thank you Maja!

Alan and Stacy Blackwell
(& big sloppy kisses from Winnie!)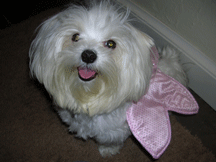 "Sofie" Johnson – post-op MPL repair
Sofie our 5lb Maltese is the first pet my family has owned, and is the baby of our family. I never knew the kind of love a person could feel for a dog until I got her. At a year and a half old my little girl was crying in pain daily and I didn't know what to do. I took her into the vet and they ran a series of tests and could not pinpoint the source of her pain, but recommended knee surgery. I was in doubt and I needed a second opinion. A good friend of mine recommended I contact Tsavo's Canine Rehab. After meeting with Maja and having her examine Sofie I felt assured performing the surgery was the right thing to do as she agreed with the vet and confirmed her knee was dislocating. The thought of surgery and recovery seemed so intense and drawn out, I was dreading it! With the help and support of Maja, Sofie made a full and speedy recovery (in ½ the time the surgeon predicted!)

I would highly recommend Maja Wichtowski of Tsavo's Canine Rehabilitation Center, to anyone who is in need of loving rehabilitation care of their pet. If you would like to discuss my experience with Tsavo's and Maja in more detail, please feel free to contact me.

Sincerely,

Dianne Johnson
Dianne@JohnsonAirSystems.com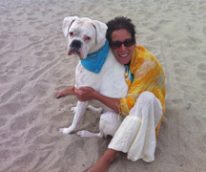 "Chants" Komitor – bilateral partial CCL rupture
My 9 year old white boxer, Chants, was recommended surgery on both hind legs. He was full of arthritis & was hopping on 3 legs. Maja was confident that he did not require the surgery & made a recommendation for physical therapy that not only cost significantly less than the surgery but was so much more pleasant & nurturing for my dog & me. We scheduled 9 days of intense laser treatment followed by weekly follow up treatments & within 3 weeks, my dog was walking on all 4 legs. Within 6 months Chants was able to run off leash. We now have monthly maintenance visits and he is doing wonderfully. I am so grateful for Maja's vision for Chants and her loving ways with him and all dogs.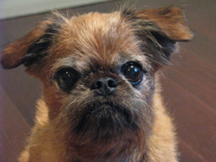 "Simba" Van Lom – IVDD, Hip DJD
I learned about Maja through a client a few years ago. She had an older Golden Retriever with arthritis, and she said that Maja was incredible in the help she was giving her and the improvements her dog had made. I have a Brussels Griffon, who was getting older and having some arthritis issues, but nothing that was really concerning me at the time. I saved Maja's phone number, just in case.
About a year later, my dog was slowing down, had put on some weight, and was just seeming "old". I didn't have much money, and I knew I couldn't afford anything on a regular basis, but I called Maja, just to talk about my dog and see what she thought. In that first conversation, just through talking and listening to me, she made some suggestions and recommendations including what food to give my dog that immediately improved his condition. Just that one call helped my dog take off the extra weight, and the call didn't cost anything.

A short time later, I brought my dog in for a consultation. I was struggling with my finances at the time, but I felt that the cost of the consultation was very reasonable and although I couldn't afford anything on a regular basis, it seemed worthwhile to set up a visit. It was an amazing experience. Maja spent 90 minutes with us. I sat in a comfy chair while she observed and gently assessed my dog's range of motion, movement, and limits. She taught me specific techniques to massage my dog and exercises to strengthen muscles around affected joints.

Because of that one visit, my dog's condition improved greatly. Besides losing weight from the change in diet, he showed improvement in other areas as well. While he couldn't "tell" me how he was feeling, I noticed that he seemed more willing to go for walks where he had been reluctant before. He was more playful and less lethargic.

As time passed, my financial situation improved and I approached Maja again. This time, I opted for Pulse Signal Therapy. The outcome…the change in my dog has been incredible…amazing…utterly amazing. Maja explained that this therapy helps regenerate cartilage in joints that have arthritis. Within a couple of days my dog was playing…actually initiating play with our puppy. He was so much more active, but I noticed that he seemed to be falling a little bit, like his legs were getting out from under him. Maja explained that because he now had more movement without pain in his joints, he was free to move more, yet he had been so tight for so long, he didn't have the muscle awareness to support this new movement so she recommended a few simple exercises to do with him. It worked. Within a couple of weeks he was running, playing, not falling, happy, and acting as if he was five years younger. Several people who had seen him before the therapy told me they couldn't believe the change. It was noticeable and dramatic.
About a month after the Pulse Signal Therapy, I was in my backyard on my phone, leaving a message for Maja to set up a follow up check up, when my dog… twelve years old…the one who had previously been hunched over and dragging his leg because of the arthritis in his hip…that same dog…ran off into the bushes and came back with a rat! He hadn't done that since he was two years old! He was so proud of himself. Although I wasn't exactly thrilled with his catch, I was overjoyed with his success and beyond grateful for the new life Maja has given him.

Maja is truly a doggie healer, miracle worker, beautiful person. If you have a dog who is getting older and appearing stiff, or slowing down, don't assume that it has to continue or to get worse. Your dog can't tell you when he/she is in pain, but you, as the owner can see it. You know. And, if you know that there is something you can do to help your dog, to take away the pain and to make things better, you really should give it a try. Call Maja. Whether it is a phone call…or a one-time consultation or a series of treatments, she will work with you and within your budget to find a solution to make life better for your dog and for you. The person who recommended Maja to me told me howwonderful she was. I have now seen it for myself, and the people who I've referred to Maja have come back to me telling me what a difference she has made. Maja has been a gift to my dog and to me and we are so grateful to know her.

Dayle Van Lom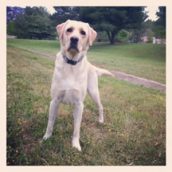 "Ryder" Lopez – post-op CCL repair
In January of this year my 2 year old lab Ryder tore his cruciate ligament in his back left knee. After three months of bed rest trying to avoid surgery and switching to a raw food diet, hoping it would help the healing process, we were referred to Maja at Tsavos. She did a consult with myself and Ryder and recommended we do surgery because of his young age. We began rehab TWO DAYS post surgery!! She made a house call to our home in Escondido and started cold laser therapy immediately while leaving me with daily exercises to do with him. Ryder is 5 weeks post op. as of 5/2/12, and has gone from only utilizing 3 legs to having full mobility and joint movement in the injured leg, and trotting over a mile and a half in under 30 minutes on the underwater treadmill! In 6 weeks he will have had a full recovery….6 weeks!! My fiancé and I have been so impressed with Ryder's recovery, physically and mentally, we give full credit to Maja and her knowledge of the injury as well as the importance of rehab almost immediately following surgery. We would recommend her to anyone who's dog has been injured or has structural issues. We can't thank Maja at Tsavos enough!!

Andrea Lopez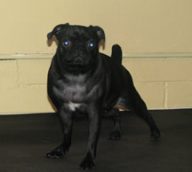 "Raisin" Kensing – '10 Pug FS, Inflammatory IVDD
Raisin is a loving, energetic two-year old pug. She had a round of puppy vaccines in the summer of 2011. In late fall that same year, she began exhibiting neurological problems. She had difficulty controlling her bladder and bowels, sometimes expelling in her sleep, and she dragged her back legs.
Raisin was diagnosed with inflammation on her spinal cord in December 2011, the result of the vaccines causing her immune system to attack her body. She came to Tsavo's in January and began with hydro-treadmill therapy and muscle stimulation. Raisin also was given an at-home regimen of leg workouts. Her energy level improved almost immediately and she is getting stronger by the day. She is showing constant improvement in the feeling in her hindquarters.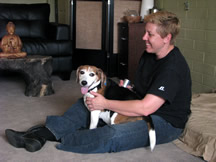 How can you take away the pain? From whining and wincing to eventually refusing to move at all, our beagle wasn't going to make it much longer. If only we knew what was wrong. He was 8 after all, and even before his brother Andy died and left him lonely a few years before, he hadn't had an ounce of puppy energy left in his chubby fur. While his sister Olive pulled hard on the leash with reckless abandon, and me, walking the two dogs with my baby boy in tow, I realized that Tobie the beagle had reached a point of pain that he could no longer bear. Far from home, Tobie couldn't take even one more step. He stopped, in defiance of his pain. The rest of us just looked at him. His body was weak and his head was twitching. Oh, G-d, what do I do? How do I get us home? How can I help him? Is there anything that can be done for him?

Like any responsible pet parent, the thought of euthanizing crossed my mind, if it meant saving Tobie from the anguish he'd been in the last week. My husband rushed Tobie to the vet, where Tobie continued to deteriorate. The only hope would be surgery – expensive, invasive surgery that would cost us thousands of dollars. This wasn't our biggest concern. Our concern was taking Tobie to the specialty hospital where he always howled in fear and clawed at the door from the time we walked in. I don't blame him. The hospital makes my skin crawl too, since it was where our Andy was brought for weekly chemo treatments years back. The stress of taking Tobie to the hospital might accentuate his new brutal diagnosis: slipped discs in his neck causing nerve damage and excruciating pain throughout his body. And even if we were able to drag Tobie in to the hospital, and if the surgery was successful, we would have to endure weeks of recovery and constant vigilance, keeping his playful sister Olive off of him and his toddling brother Henry away too. After all, Tobie had just been through three weeks of surgery recovery from a gnarly hematoma in his ear and had to endure the "cone of shame" for weeks without end (we believe that the vet's order to keep the cone on at all times led to this neck problem). Were we going to risk further beagle suffering? NO!

Thank goodness our neighborhood of dog walking fanatics had the answer. Turns out three of our neighbors with dogs all knew the magic word to cure Tobie of his ailments: Maja.

We set a meeting right away with Maja. We met with her apprehensively, dragging poor Tobie in. He reluctantly crossed the threshold after passing by the zen garden in the front of Tsavo's. Would this prove fruitful? Would Tobie be curable? Tobie was immediately smitten with Maja's warm, calm nature and ability to deduce the point of pain. Even after the first meeting, our hopes for Tobie increased exponentially. Future visits proved equally successful, and Tobie transformed into the younger, lighter-spirited pup we once knew so many years ago. Not only that, but he eagerly awaited his regular visits with Maja, practicing his neck stretches nightly at home with hopes of impressing her the following day. Boy was he proud of his progress… and so were we! Relieved, appreciative, amazed; we couldn't believe the fervor Tobie still had in him! Tobie continues to enjoy his visits with Maja. Though less frequent, he knows just as well as we do that really, Tsavo's was just what the doctor ordered!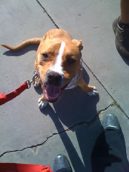 Myla" Garcia – Post-Op CCL Repair
When we were told our 2 ½ year old pup needed her 2nd knee surgery (both in a 10 month span of each other) we knew that we had to get her into some form of rehabilitation. Our friends referred us to Tsavo's so we decided to check it out. When I first called Maja it was the night of Myla's 2nd surgery, she was so helpful and put me at ease. I knew from that first conversation that this would be the place we would bring Myla because I could hear the passion in Maja's voice to help a dog she hadn't even met before! I was certain that Myla would be in great hands.

Myla was a little timid at her first laser treatment but quickly made Tsavo's her 2nd home….by the time she was doing her treadmill water therapy (10 days after surgery!) she would run right into the enclosure excited to get started.

Myla just completed her therapy (7 weeks post op) – she is back to her old self again and will be back to the beach soon where she loves to play fetch in the water. We couldn't have done it without Maja! We cannot thank Tsavo's enough for getting our Pitty healthy again!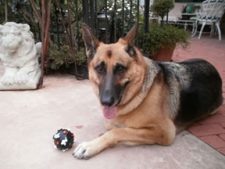 "Sarge" McAllister – Multi-Joint DJD
Hi, by now you are probably wondering who that good looking boy is.

Well, let me introduce myself.my name is Sarge, aka German shepherd extraordinaire, or as Maja affectionately calls me – Delilah- since I have a natural tendency towards the dramatics. In other words, I am a drama queen but since Maja's treatments gave me my mobility back, I humor her.

On my first visit I was barely able to walk thru the door on my own yet alone stand for periods of time. I have a bad knee! No cartilage left. With PST (Pulsed Signal Therapy) treatments, cold laser, the water treadmill, and my favorite the massage, I am getting back to my stellar self. I am also happy to report that my good looks are always enhanced with the service the (cute) groomers provide; using natural shampoos and gentle nail trim techniques.

If I had favorite person it would be aqua Dave, since I have web feet and would spent all day in the pool (if they would let me). He is my hero!

As you can tell I love Maja and entire staff

Sincerely,

SARGE
"CoDee" Kruseski – post-op MPL/CCL/meniscal repair
My two dogs are seven year old Pomeranian littermate brothers, CoDee and JoDee. They are very athletic dogs and we go for long dog walks every day, with plenty of ball playing in the evenings. CoDee had luxating patella surgery on his right rear leg when he was a year and a half old.

On Aug 2, 2012 while at my mom's house CoDee tore his left rear ACL chasing cats. I was not around when the injury happened so I thought it was a simple ache that would go away with time. After 4 weeks of his limping, it dawned on me that there could be something much worse going on. I had met Maja about a year earlier when she would visit my favorite client to take care of her dog. I joked that my dogs were A-OK at the time but I would look her up if I needed her.

Well, I needed Maja badly. We had an initial consultation wherein she told me that he probably needed surgery. I went immediately to the vet, Dr. Mira, at the Animal and Bird Hospital and CoDee was X-rayed. There were signs of problems and so I was hooked up with mobile surgeon, Dr. Dan Frankel. We had a meeting where he showed me the X-ray and explained what he thought CoDee needed…ACL, Meniscus, and patella stabilization…yikes!

The surgery was scheduled for Sept 6. I asked about physical therapy and the surgeon said no…not for weeks…keep CoDee sedated for a couple weeks…and JoDee, too, if he needed it. Maja said therapy should start almost immediately after surgery. I agreed with her so CoDee was at Tsavo's four days afterwards. The massage and the cold laser treatments began. And then after CoDee's stitches were removed 14 days after surgery, he had his first underwater treadmill experience. I was a little wary of CoDee handling it, but he was "a natural in the tank". I was so excited about the therapy that I posted lots of stories and photos on Tsavo's Facebook site.

Maja promised that CoDee would be 100% in 6-8 weeks after surgery…and he was! Maja is brilliant when it comes to dogs and what they need. We showed up without fail each and every time and she was wonderful to CoDee and she included JoDee in everything, too. What a fantastic experience. I will always be grateful to Miss Maja and her fabulous staff. I tout them to anyone who asks. I see many dog people on our walks and I happily tell them about Maja and Tsavo's.

CoDee is 110% these days. We are walking, doing stairs, and chasing balls. We are back, baby…Thanks to Maja, David and Tsavo's.

Sincerely,
Kris Kruseski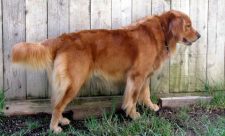 "Precious T" Sinkule – post-op CCL repair
Hi my name is Precious T (for trouble). When I was doing one of my football runs I ruptured a ligament in my knee. Surgery followed… wow I was one sick puppy! They told my mom 3 months to full recovery. Now what? This was one of the scariest days of my life.
I couldn't run, couldn't jump, couldn't do much of anything, mom knew she had to do something with me because we were both worried about my future and how I would walk again. Then mom found Maja, oh happy day… help was on its way. Maja was loving, kind, and knowledgeable. Her treatments and rehabilitation program helped me to regain my strength and go forward in my recovery, which ultimately helped my mom stop worrying!! Thanks Maja!

Look at me now… back to my old self…;-)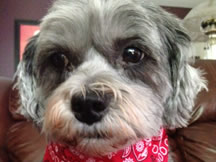 "Murphy" Yoelin – bilateral MPL and Hip Dysplasia
Murphy was born in a puppy mill in Ohio 6 1/2 years ago. We adopted her when she was 3 months old. We loved her dearly from the moment we saw her. At 5 1/2 years she was diagnosed with severe hip dysplasia in both hips and luxating patellas. All caused her extreme discomfort and pain. Four very expensive surgeries and years of recovery were not an option. Even the vet agreed but offered no answers. She could barely walk. She was in pain that Rimadyl didn't even touch. Then a friend referred us to Maja and Tsavo's.

Murphy's first 9 day intense therapy changed her life. The laser therapies and water treadmill exercises allowed her to walk and even run again plus reduce the pain. Maja's goal was to strengthen her muscles so she could be pain free and mobile. She is now a happy gym member and swims every week. She loves to swim….she walks on clouds for days after her 1/2 hour weekly session! She seldom needs any pain medication. Her quality of life has been elevated. Maja and staff are fabulous; always friendly and helpful and caring. I don't know what we would have done without Tsavo's. Thank you from the bottom of our hearts!!!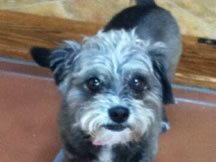 "Bandit" Dougherty – IVDD
How do we thank you, let us count the ways!!!

My little Bandit had bouts of writhing pain after his back surgery. I thought he was destined to need another surgery or live on heavy drugs the remainder of his life. BANDIT's quality of life (and our family's) changed the moment Maja placed her "magical" hands on my little boy. He has been a biter due to his severe pain, and Maja won Bandit's trust and heart! Bandit now loves to run and frolic, which brings him, and the whole Dougherty clan, great joy! We are so grateful to have Maja in our lives!!! Her knowledge and love for all her "kids" is quite a gift!

With tail wags and hugs,

Bandit and his whole family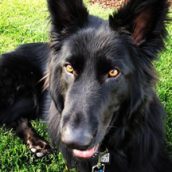 "Astro" Leininger – bilateral FHO
We adopted Astro from the Southern California German Shepherd Rescue in January of this year. He came to the rescue because he and his brother were going to be euthanized due to both having severe hip dysplasia It was bad backyard breeding at its worst. Fortunately, a family member stepped in and got them to the rescue. Astro needed both hips surgically repaired. The decision was made to do FHO's (femoral head ostectomy). The rescue got funding to complete one of the surgeries and was campaigning for more to do the second. We ended up adopting him before his second surgery and completed that about a month later.

Now to get him healing….

With previous dogs, water therapy worked amazingly well, so I started looking at all options. Someone at my vet's office told me about Tsavo's Canine Rehabilitation. I gave Maja a call and she fit me in to her tight schedule. On that first visit, I knew this was going to be much different than what I experienced before. Maja not only gets the dog into the water for the exercise, but she looks at the animal as a whole. More of a systems approach, rather than just water therapy. Other issues that Astro has/had was being underweight and VERY picky about food and not eating on a regular basis. He also has motion sickness in the car. Our first visit ended in dog vomit literally dripping out of my trucks back passenger door. I did not know he had so much in him! Maja also did cold laser therapy, suggested supplements and dog food. Astro is now eating on a regular basis and gaining weight. He is so much healthier looking and can now chase his sister in our back yard and go on long walks. He loves to walk! He still has motion sickness, but Maja helped us find something that worked to resolve it.

Maja is also a great resource for many things 'pet'. Maja and her staff have a great enthusiasm for their work and that shows on every visit. They work miracles and bring you along for the ride.

I highly recommend their services.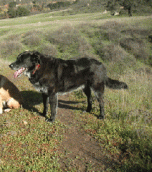 "Scruffy" Shelton – Hip DJD; IVDD
Scruffy is a 12 year old mixed breed that had hip replacement surgery when he was 5. For the past 2 years he had grown progressively stiffer from arthritis in his hips and, despite strong daily prescription medication, became almost completely inactive. I often had to help him stand up. Our long hikes up the hill behind our house were gone for good. In desperation I looked for something or someone who could help him using alternate methods and, by complete luck and coincidence, I met Maja.

In three short months Scruffy went from a complete cripple to a happy, active, comfortable, dog. After over 2 years of inability to run, he now plays with his friendly 18 month Jack Russell terrier mix with whom we walk. Last week, we hiked up the hill again and he suffered no problems during or after the hike.

Watching him return to his old self has been a joy; going from wondering how long I can allow him to suffer before euthanasia, to expecting him to live another several comfortable years is a gift I cannot possibly describe. Thank you Maja for giving me my beloved dog back.

Rosemary Shelton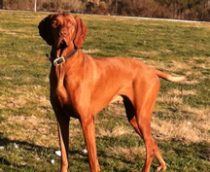 "Prince" Benarieh – post-op TTA
My dog, Prince, a 4.5 year old Vizsla, had a torn ACL on his left hind leg…. He had TTA surgery and recovered nicely but started to favor the other leg, maybe because of discomfort or other reasons… In short, the muscles in his hind left had started to atrophy and he was not functioning well… It was at this point I brought him to Tsavo's Rehab center, where Maja was able to diagnose the situation and prescribe an exercise regimen to build up his strength back to normal… I can only say that the results were fantastic…. Sure the work was hard but he is now a brand new dog and plays and runs as hard as before…. Thank you Maja for all the help.

PS. I am recommending Tsavo's to all my friends. They do wonderful things for our dogs.

Eli Benarieh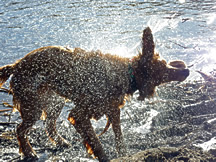 "Chip" Kosch – post-op TPLO, IVDD
I started my now 11-year old Golden Retriever at Tsavo's in March 2013 to rehab from knee surgery. With water treadmill and Maja's excellent hands-on work as well as her instructions for home exercise he had an excellent recovery and was back walking up to 3 miles with no difficulty. Then he suffered a back injury and could barely walk. Once again Tsavo's brought him back. He now enjoys weekly therapy and swimming. He is not on any pain meds and clearly feels fantastic, has loads of energy and is enjoying his senior years to the fullest. I can't even begin to express my appreciation and gratitude!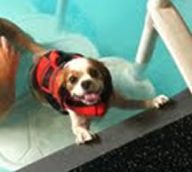 "Camilla" Kirk – post-op CCL/meniscis repair
I was referred to Maja Wichtowski (of Tsavo's) by a close and discerning friend so I automatically assumed I was in good hands. However, Maja and her team exceeded my expectation (which is rare) and it was a pleasure to work with her during Camilla's rehabilitation.

Camilla (my adorable Cavalier King Charles Spaniel) and I came to Maja in desperation. Camilla had been limping on her left rear leg at various stages for months and x-rays were not indicating an issue. I knew something was not right and finally discovered Maja. Through manipulation, Maja was able to identify the issue as a possible torn ACL. Sure enough, the ACL was ruptured and the surgery that followed also revealed a torn meniscus. No wonder Camilla was in pain!

After surgery, Camilla and I worked with Maja and the Tsavo team on her rehabilitation. She's now fully recovered and stronger (and happier) than ever. Her puppy personality has returned as she is no longer in pain.

I would and will continue to recommend Maja and her team of professionals for any condition your pet requires for rehabilitation, weight loss, exercise and general well-being.

Kind regards,

Christina Kirk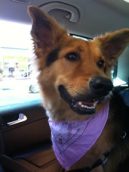 "Kona" Stanton – post-op TPLO
We brought Kona, who was a little over a year old, into Tsavo's about 4 weeks post TPLO surgery. It was the BEST thing we could have done for her. Maja and her team are fantastic and worked with her to get her back on her "paws" in record time. Watching her get stronger each week was so amazing. Her stride was better and her workouts in the water treadmill really helped get some of that puppy energy out! Kona is back to her normal self – running and enjoying long walks. We can't thank Maja and the team at Tsavo's enough!!
My dog Abby was diagnosed with a transitional vertebrae that caused her to have a herniated disc and arthritis in her spine. She was in a lot of pain and had difficulty performing normal daily activities. She was also losing muscle mass in one of her hind legs. It was so difficult to see her in this state.

My vet recommended that I take her to Tsavo's to work with Maja. I am so grateful that he did. I was immediately impressed with her and the facility. Maja is so thorough and knowledgeable, and shows great dedication and care. Abby felt comfortable with her right away and really enjoyed her sessions.

Over the following weeks, Abby continued to improve from her treatments. Today she is back to her normal, happy, active self! She can run, hike, swim, and frolic with joy. I am so appreciative for all that Tsavo's has done for her. I cannot thank them enough. I would recommend them unconditionally!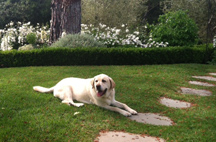 "Chester" Hucko – CCL rupture (non-surgical)
We love Tsavo's and Maja! The water therapy helped restored Chester to pain-free mobility. The loving, concerned, and optimistic attitude of Maja and her staff has been equally important as the knowledgeable and professional care and therapy.

– Love from Connie & Chester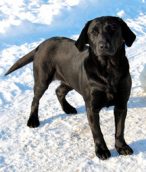 "Cricket" Howerton – Rotator Cuff
After our black lab Cricket had shoulder surgery we were apprehensive about her recovery to full health. The veterinary hospital recommended Tsavo's for her physical therapy, and were they ever right! Our first visit with Maja put us all at ease. She and her staff know what to do, how to do it, and when.

Cricket's recovery is complete and it is remarkable how beautifully she responded to this hands-on program, and how quickly she has regained her strength (and her personality). We would go back to Tsavo's without question. When it comes to dog rehab…they get it!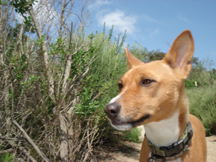 "Karma" Fukumura – Rotator Cuff
Maja is an amazing healer! She was so patient and loving with our Basenji Karma. She was also very kind to Karma's mom who tends to worry a lot. Karma's rotator cuff tear is all healed now thanks to her. Karma can once again run with her pack!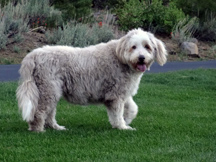 "Meghan" Haviland – IVDD, multi-joint OA
Meghan is finally settling into retirement in a happy and peaceful way instead of in pain and unsure on her feet. The cold laser therapy, swimming and treadmill have all helped her build back muscle mass and to walk with confidence. As a senior citizen she gets her temporary set-backs and ailments, but the staff at Tsavo's is always there to help her get going again.

She has been a joy to me and my husband for over 16yrs and we thought we were losing her until I met Maja. Now we look forward to many more walks on the cliffs and naps on the deck with our crazy Beardie.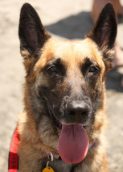 Aurora Scarbrough – post-op TTA
I can't express how happy we are with the outcome and the personal attention we received at Tsavos. Maja and staff treated Aurora, my crazy Malinois, with such care and were always embracing her silly personality. After 10 sessions, Aurora was running again and healing nicely. We are so pleased with our experience and the expertise of the Tsavos staff. I would recommend that everyone take their fur kids to Maja.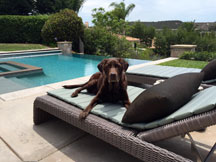 "Chip" Weinberg – IVDD, CCL rupture (non-surgical)
My 12 year old lab Chip was diagnosed with a torn ACL and a really weak back. He could hardly walk but like any great lab never complained! Going through another major surgery at his age is risky. Thankfully I was referred to you as "a last resort". Fast forward 3 months, with your amazing process, Chip is happy, healthy and pain free. He is swimming again, can get up on his own and off all medications. His back is strong, has lost 10 lbs and happy again. It is truly a miracle. Our family thanks you so much for improving Chip's life, he is the heartbeat of our home.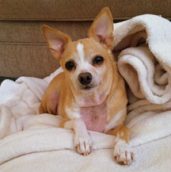 "Stix" Racine – post-Ventral slot (Cervical disc repair)
Maja helped our boy Stix recover after his spinal disc surgery. She provided him individualized care and paid special attention to his needs as he progressed through his therapy. During a very difficult time, Maja eased our concerns and answered any questions that we had along the way. We are so grateful for the care she provided to our boy! If it wasn't for Stix's physical therapy, we don't believe he would have recovered as quickly and fully as he did. I would recommend Maja's services not only after an injury or surgery but also as preventative care for our aging furbabies.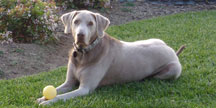 "Jackson" Kranen – post-TPLO
Our silver lab Jackson had TPLO surgery to fix a torn ACL. He came to Tsavo's for rehab to rebuild muscle mass and recover strength in that leg. After finishing rehab he's now able to move like old times (but prefers his chair)!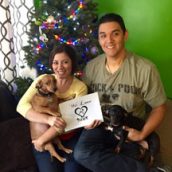 "Dexter" Leonard – post-hemilaminectomy
Our five-year-old dachshund Dexter had to have spinal chord surgery last year due to a ruptured disc. He could not walk and was in an intense amount of pain that was starting to cause ulcers and bleeding. Dexter could not eat and did not have the upper body strength to compensate for his injury. We were referred to Tsavo's for our little boy to begin therapy. When we met Maja and the Tsavo's crew Dexter was upset, stressed, in a significant amount of pain. You could actually see the look of worry on his little face. Tsavo's was patient and kind. They went above and beyond to build trust with my dog so they had the rapport to help him be successful in therapy. I know that they cared just as much as our family did about Dexter getting better. Hydrotherapy, laser therapy, and Maja's amazing therapeutic care not only helped to heal our pet but I truly believe it saved him. Going to therapy and having people cheer him on gave him the strength and the spirit he needed to fight when he wanted to give up. Maja and her amazing team also gave me hope when we thought our boy would never run again. Furthermore, Tsavo's was knowledgeable and always gave honest feedback on how to best care for our pet during his rehabilitation. Just five months after Dexter's surgery, he was back running on the dog beach, he is happy, and he is strong. We love Tsavo's and we are so very grateful for the impeccable care we found in our friends at Tsavo's.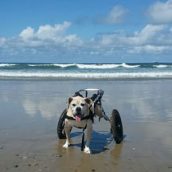 "Henry" Ellis – Degenerative Myelopathy
After extensive research for a rehab therapist to treat my 13 y/o Boxer, Henry with Degenerative Myelopathy, I finally found Maja Wichtowski at Tsavo's Canine Rehabilitation. I saw a video on her website and knew we had found the one for us. I'm so happy we found her. She is extremely knowledgeable and passionate about her work with dogs and so benevolent, kind and loving. She treated Henry at times when we didn't have enough money and she even located a donor for his wheels when the time came for them. She created a special diet, treatment and supplement plan tailored to Henry's needs. We so needed her expertise and guidance and couldn't be more grateful for it. Karen, his hydrotherapist is also awesome. She has always been kind and sweet to Henry, even when he wasn't the easiest to work with. There is no doubt that Henry's treatment at T'savos slowed his disease process and has kept him mobile much longer than he would otherwise be. My boy Henry loves Maja, as do my husband and I. She really cares about these dogs, it's her life's work, and she has truly been a gift to our family.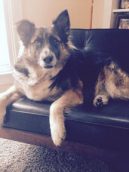 "Gracey" Nares – Tarsal DJD
Gracey, our little girl is 3 & 1/2 years old. We rescued her one & 1/2 yrs. ago. She was found by a San Diego Baja Rescue Group on the streets of Ensenada, Mexico. She was hit by a car when she was very small, & having no one to care for her, her injury "healed" on its own. She came to us with a constant limp, & until we met Maja & experienced Tsavo's, her walks were 20 minutes at a time, and she laid down often. Because of her limited motion, Gracey weighed 86 lbs, which put even more pressure on her leg.

Tsavo's Team & rehab has been an amazing experience of healing & improvement for Gracey! After twice a week treatments for 8 weeks, & now her once a week gym session on the treadmill, she is no longer taking Rimadyl daily, no longer limping, & she has lost 4 lbs. She takes longer walks with us, fewer stops, & has turned a slow walk into a brisk walk!
I love watching her on the treadmill for 30 minutes. Our whole experience continues to be a positive one. I recommend Tsavo's to anyone whose kid needs physical help. It is an emotional healing too, for the whole family.

Thank you Maja & Karen!
"Duke" Elliott – bilateral TPLO & meniscus
Our family is so incredibly grateful for the love and support given to our dog Duke from Maja Wichtowski and her staff at Tsavo's Canine Rehabilitation & Fitness Center in Del Mar.
In 2017, Duke tore both of his ACL on his back knees and had 2 TPLO knee surgeries and a meniscus surgery. Faced with this new situation, we were scared and unsure. With mounting vet bills and rehab costs, we wondered if Duke would ever walk, hike and chase his ball at the beach again. Taking that extra step to have Duke do rehab was extremely beneficial. Not only did he recover quickly, the care and guidance we received from Maja was reassuring and made this process less stressful. She is so gifted with the animals in her care. And yes, Duke worked his therapy and is again hiking and running on the beach, he is once again our wild and wooly bear with that same happy personality he had before his surgeries.
As I reflect back on the hours spent at the rehab center, what most impressed me was how many animals received care each week and how extremely talented Maja and her staff are with the dogs. They truly love their jobs. Each pet had a personalized recovery session or weekly fitness routine. Not only does Maja help individual families, she goes above and beyond to raise funds for discounted care and rehab for rescue pets through her Dog Dreams Foundation.
We are so blessed! Thank you Maja and staff for sharing your wonderful gifts!! You are remarkable 🙂

~ With love, from The Elliott's and the Duke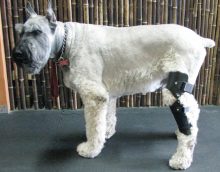 "Knuckles" Shiebler – post-TPLO
We are ESTATIC and OVERJOYED at the results our Giant Schnauzer, Knuckles, with Maja and her staff. We could not be more thrilled with the love and support they showed to our dog and the result he achieved from their focused and professional care. We would use their services again in another time of need. Knuckles also sends his kudos as he is now running, jumping and playing as though he is a two-year old puppy rather than an eight-year old. Thank you for all you did for him, and us.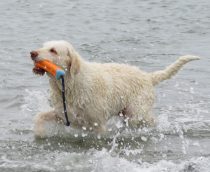 "Goldie" Tonini – medial shoulder instability
Tsavo's Canine Rehab is amazing. Our labradoodle, Goldie, was having serious issues with the tendons in her shoulders to the point where walking was difficult. After the PRP (platelet rich plasma) treatment to her shoulders the vet recommended physical therapy and then determine if surgery was required after the PT was completed.
The knowledge, expertise, caring and thoroughness that Maja showed to Goldie and all her 'patients' was incredible. Swimming with Karen was something Goldie came to look forward to…perfect combo of rehab and fun in the water.
Goldie is now back to running and fetching on the beach and doing laps in her own pool - WITHOUT any surgery. She is stronger now than before thanks to Maja and all her staff.
Karen T.
Carlsbad, CA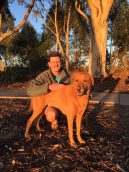 "Chester" Elderson – post FHO complication
I came to Tsavo's after my dog, Chester, had a traumatic hip injury followed by four hospital visits, two surgeries, and several visits to physical therapists. Unfortunately, by the time I came to see Maja, Chester had not walked on his leg in over three months and had serious muscle atrophy. Almost the entire muscle in his leg had deteriorated. Maja listened to me and learned about my dog, what he had been through, and what had been done for him. Together we formulated a rehabilitation plan and have been going strong for the past 6 months. I'm happy to say Chester is happier than he has been since his accident and is enjoying all of the regular activities he did before his injury like playing catch, running at the beach, and following me on my bicycle. Maja is a superstar who really listens to her patients and creates and individualized plan for each animal she works with.

- Erik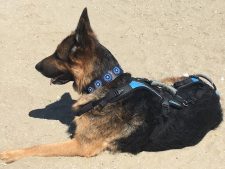 "Rama" Mitchell – Tri-pod, Discospondylitis, Hip Dysplasia
Our dog is a German Shepherd named Rama. He started at Tsavo's with Maja on February 14, 2016 for physical therapy. He had a life-changing event in October 2016. His right front leg was amputated due to a bone infection. One month later he was diagnosed with discospondylitis after his rear legs collapsed under him. He wore a (removable) back brace for four months, only to be off for his hydrotherapy sessions.
February 2017, Rama was ready to start rehab for muscular strengthening. Maja Wichtowski at Tsavo's was highly recommended to us by another GSD owner.
Rama has benefitted from the therapy modalities offered at Tsavo's. He has had pulsed signal therapy, neuromuscular electrical stim on both hips, extracorporeal shock wave therapy, hydrotherapy, rapid release therapy, and cold laser treatments. Maja put a plan of action in place and Rama has responded well and is eager to go and have his time with Maja. She has been so caring, patient, and compassionate through the treatments with him. The entire team at Tsavo's are a pleasure to work with and it is very apparent they love what they do.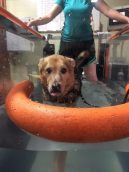 "Lucie" Beneventi – CCL rupture (non-surgical)
Maja and her team are wonderful human beings with a genuine love towards our 4-legged friends. Lucie is coming up to her one-year anniversary (rehab) and at 14 years old, we were able to avoid a CCL surgery. In summary, great place for your pet and owner by association.
Jean-Claude and Tishia B. San Diego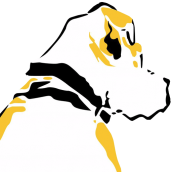 "Bailey" Penn – post-op TTA complications
Wow, big gratitude and appreciation for all the love and care you provided both me and my mom over the last 6 months. Mom was really stressed out and you helped her feel that there were things she could do that would make me feel better, which they have! Thanks for listening to Mom's concerns after the surgery created additional problems, and healing me with your care and workouts, recommendations for exercises at home, and more. Most of all, thank you for supporting and caring for me and my mom, we wouldn't have wanted to go through this without you.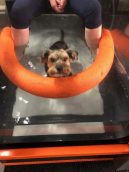 "Rocky Diamonds" Lovely – post-op bilateral MPL/FHO
I highly recommend Tsavo's Canine Rehabilitation Center, Inc. Tsavo's was recommended to us by Veterinary Specialty Hospital in Sorrento Valley to help Rocky Diamonds regain strength in her right leg after surgery. I was very impressed when I reached out to Maja Wichtowski, the owner of Tsavo's. She reached out to me promptly after I left a VM and scheduled Rocky Diamonds for the following week. Her hours are very flexible and she accommodated to my schedule working with me on evening and weekend shifts. Rocky Diamonds being a yorkie has a mind of her own and likes to do things her way. Watching Maja work with her, it's like she is a dog whisperer. Rocky Diamonds has her moments but she settles down and cooperates. A big part of her recovery comes from the water treadmill. Cody, who typically works on Rocky Diamonds in the tank, is very patient with her. Watching her improvement over five weeks has been remarkable. We went back to Maja three months later after her second surgery on her left side because we had total faith in her and her team's abilities to make Rocky Diamonds walk again on all fours. If you are skeptical of pet physical therapy like I was, trust me, it works and I am a true believer now.
Thanks for being awesome and helping our puppy!
Erin and Jason Lovely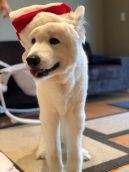 "Blizzard" Fantasia – IVDD, multi-joint OA, Neuro
I have a 13 year old, 90lb. Samoyed! Thirteen!
Blizzard is a smart, sensitive and talented Samoyed who has always been by my side. He's my co-pilot, my sidekick, my breathing stress-reliever. I've been fortunate to be able to bring him to work with me every day for the past 12 years so we have a bond like no other!
Blizzard had been doing water therapy since he had TPLO surgery on his knee 8 years ago. In January of 2017, he started to slow down and was having difficulty standing by himself. We continued therapy as much as we could, but what was once a fun activity for him, now scared him so much that he would shake in the treadmill. He went from walking 20 minutes to not being able to do 1 minute! I could no longer take him to work with me. He was having poop-accidents, was miserable, lost his appetite and was in pain. In June of 2017 I thought, for sure, the end was near... then we found Maja!
Maja is THE most hard-working, caring and dedicated person I've ever met. Her passion for pets (or kids, as she calls the,) shines through the work she does with each individual "kid" she rehabilitates. She brought my Blizzard back! She started working on him in August. I was 7 months pregnant and could not bear the thought of losing him. I thought "if she could just keep him going until October when the baby was due", then "keep him going until his birthday in November". Now it's been 5 months and we're going strong. Blizzard barely walked, needed a harness and couldn't do the water treadmill for more than 3 minutes. Now we no longer use a harness and he's back to doing 20 minutes on the treadmill.
Thank you, thank you, thank you!!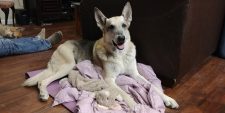 "Apollo & Nero" Thompson – IVDD, multi-joint OA
A little over a year ago Apollo, our shepherd/malamute was having trouble regaining his hindquarter strength after a series of procedures requiring sedation. His activity level had dropped dramatically and he seemed like he was drifting away from us. We began sessions with Maja and Cody in January of 2017 and it has made such a difference. We brought our second shepherd, Nero, in too for preventative reasons which has now turned into essential treatment to manage his arthritis.
Every time we have an appointment I tell them, "Let's go see Maja!" and they get so excited. Nero in particular adores her and she is the only non-family member to my knowledge who has ever gotten Nero kisses. You can see a marked improvement in his pain level when we go and he always sleeps well after a session.
Apollo is 100 pounds and almost 13 years old so a fast walk is a workout for him, but after his treatment with Maja he will almost run out to meet me for his treadmill time. I have absolutely no doubt that our sessions at Tsavo's have bought us extra time with our boy and have kept his spirit as well as his hips as healthy as we can hope for. We truly appreciate all that the crew at Tsavo's has done for us and our "kids" and would recommend them wholeheartedly to anyone considering this route for their pups!
-Roisin Thompson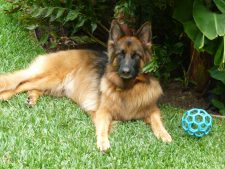 "Xochitl" Garrigan – IVDD, Hip/Stifle OA
Here is the story of how we found The Gifted Maja:
About a year ago, my six year old long haired German Shepherd began scraping the toenails of her right hind leg and falling behind on walks. I took her to an Orthopedic Surgeon because she had had surgery on that leg previously, in fact she's had surgery on all four legs. The Orthopedic Surgeon x-rayed her and told me she had Cada Equina Syndrome and handed me a brochure as he hustled me out the door. He did say that I should see a Neurosurgeon as there was nothing that he could do. I drove home with fear in my heart. We went to see the Neurosurgeon who gave us a diagnosis of Degenerative Myelopathy. Xochitl did test positive for the gene. He said that he would not ordinarily diagnose a dog of her age with this disease except for the fact that she carries the gene. He then told me there was nothing that could be done and that she would lose the ability to use her rear legs and become incontinent in 8 to 12 months. I sobbed hysterically all the way home.
After a few days of feeling completely bereft, I got mad. I decided I wasn't going to believe either one of the specialists." After all, they had given me two different diagnoses. My next step was to call a local Physical Therapist. We went there for a month or two and I did not detect any difference in my dog's ability to walk. She was now lightly scraping her toenails throughout the house and walking her outside was almost impossible. However, this Physical Therapist did agree with me and did not believe that my dog was suffering from Degenerative Myelopathy.
Once again, I was on the search for help. I went online and found a local German Shepherd breeder who's website said that she tests for Degenerative Myelopathy. I called her and explained my situation. She told me that she didn't believe that Xochitl had Degenerative Myelopathy either. She told me to stay home and a friend of hers would call within an hour. And, indeed, she did. The gal that called explained to me that she had experienced terrible problems with her dog also. Her German Shepherd was unable to walk well and could not jump in or out of the car or onto the bed. She told me that she had taken him to the most fabulous Physical Therapist, Maja, at Tsavo's Canine Rehabilitation in Del Mar. I groaned, Del Mar is an hour away from my house, one way, without traffic, an hour and a half plus with traffic. But, I called and made an appointment and decided to continue treatment with Maja.
Over the past few months my dog has improved enormously. She has improved so much that we can now go on a 40-minute walk without dragging her foot or scraping her nails. Maja gave me exercises to do at home which made me feel like I was a participant in my dog's well-being. The facility is clean, the staff is friendly and she never takes your dog away from you. I have been to other facilities (4) where the dog disappears into some unknown back room. I don't like it.
Maja is truly gifted. Her ability to diagnose the problem and create a therapy is unsurpassed. Xochitl had TPLO surgery on both hind legs. In addition to all of this, she has arthritis. All of her ailments are being treated simultaneously (this has never been done), her energy is back to a level where it should be, she is not in pain anymore, we are taking walks, and we are both Very Grateful to Maja and Very Happy!
Katie Garrigan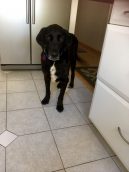 "Samira" Gerstenberg – bilateral Hip Dysplasia
If Samira could talk she would tell you and others what wonderful healing hands you have. Helping all those four-legged friends to get better or stay as well or functional under their special circumstances.
Thank you again from the bottom of my doggie heart.

Samira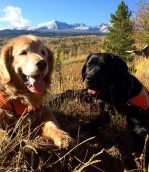 "Neville" Worthen – post-op bilateral elbow arthoscopy "Oscar" Worthen – post-op bilateral shoulder & elbow surgery
It is interesting, finally, the law has now caught up to what most pet owners already know. Pets are family. My relationship with Maja and Tsavo's Rehabilitation began many years before my more recent stories, when a long passed old golden retriever began suffering from arthritis, and she was a solo practitioner in the back room of my vet's office. My 2 boys now; Oscar now almost 11, and Neville a 2 year old Newfie/Lab both experienced congenital joint deformities requiring early surgical intervention. Oscar at 4 joints at 5 months- both shoulders and elbows, and Neville- both elbows at a year. The orthopedist determined their activity would be severely limited without surgery, and each would greatly benefit long term by careful recovery including physical therapy. Maja began her work with both dogs as soon after surgery as was advised, and her careful evaluation, recommendations, hands-on work, and guidance for my "at home" sessions have given both dogs the best possible recovery and return to a very active lifestyle. I am a hiker and own a mountain home in Colorado, as well as loving long morning walks and walks on the beach. Oscar, to this day, has the strength, flexibility, and power to climb and walk mountain trails for hours. Neville, through Maja's careful use of her underwater treadmill and guidance, restored his flexibility to as close to normal as my surgeon could have hoped and now has a perfect gait and the speed, comfort, and enjoyment of play as a dog never needing repair. As with humans undergoing joint repair (I know, I am one) careful progressive physical therapy can make the difference in the short and long term health and well-being of our 4-legged furry family members.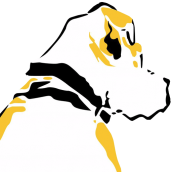 "Jade" Fritsch – bilateral shoulder OA
As a veterinarian, I was very happy with the care provided by all the staff of Tsavo's. Jade was seen for worsening limping as she got older, and we were encouraged to seek out physical therapy when bad shoulder arthritis was diagnosed. When asked who he would recommend, our hospital's board-certified surgeon immediately recommended Tsavo's, even though they are not the closest clinic that offers physical therapy.
I was incredibly impressed with Tsavo's from the first interaction. They fit me in quickly to their busy schedule. I got a text message from Maja (how personal!) a few days before our appointment confirming the time and indicating that they had received her medical records. We met Maja and Dr. Rena Singer and they took their time discussing their assessment and recommendations.
For the next 10 sessions, Jade enjoyed shock wave therapy, therapeutic laser therapy, and underwater treadmill sessions. At home we used cold therapy (icing), stretches, massage and eventually some home strengthening exercises. Jade, who is a rather difficult dog, looked forward to every appointment with gentle Dr. Singer and would start whining in the car as we would get close.
By far the thing that brings tears to my eyes is the improvement my baby girl has made in just 10 sessions. She truly acts the way she did as a 3 year old – bugging her big brother to play, insisting we go for walks more often, and picking up toys to play with on her own if she can't get enough attention from us. We are so happy that Tsavo's helped Jade feel better.