05 May

DIY Organic Pet Toothpaste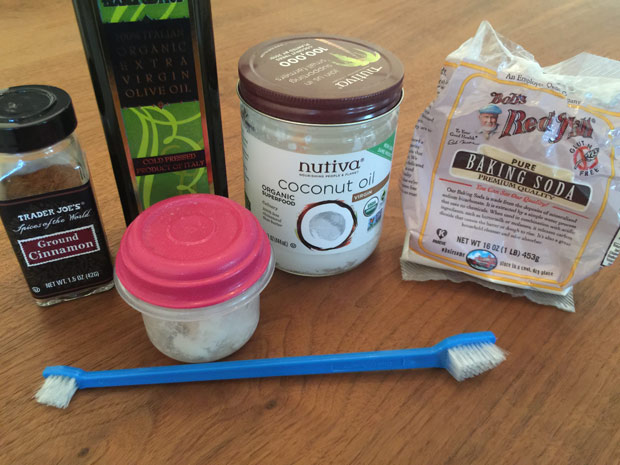 Tired of buying expensive Pet Toothpaste that seems to last a far shorter time than your own human toothpaste? I mean we all need to brush our teeth, but $13.00+ for a tiny tube of Canine Toothpaste is really getting old!
My girl has a couple chipped molars and I need to keep her mouth as clean as possible to avoid infection. I was using the store bought toothpaste from my favorite Health Oriented Pet Food Boutique. It was working pretty well until late. I saw my girl's gums starting to become red, inflamed and infected. I tried controlling this with the store bought toothpaste, but it was not responding making me worry about her health.
Doing a little research online, I found several recipes for DIY, Organic, Home Made Tootpaste. I figured, what the heck, it couldn't hurt to try it right?
The basic ingredients that seem to be repeated with many of the online recipes include Baking Soda (use Bob's Red with no Aluminum), Organic Olive Oil and Organic Coconut Oil. The optional ingredients are Cinnamon or Beef Bouillon for flavor. You may need to experiment to see which your pet prefers. So far, Cinnamon is not my girl's favorite, I'll try the Beef Bouillon next batch.
So I mixed up my concoction and proceeded to apply it to the patient. One side of her upper gum was very red and inflamed. I was thinking,"there is NO WAY this is going to make any difference!" I mostly used even parts and lightly added Cinnamon for flavor.
The next morning I decided to have a look to see if the redness had subsided at all. To my total amazement, the redness and inflammation was Completely Gone! WOW – I couldn't believe it! This is a total testate to the power of Organic, Household items that can truly make a difference in our lives. Not to mention, this probably cost me about a dollar at most, to make something so effective and powerful. I highly recommend you try the same for your family pet! They will Love you for it, while being healthier at the same time.
Recap of my ingredients; Trader joe's – Organic Cold Pressed Olive Oil, Jimbo's – Nutiva Organic Coconut Oil, Jumbo's – Bob's Red Mill Baking Soda (Aluminum Free), Trader Joe's – Organic Cinnamon. Just an FYI – Once made, no need to refrigerate.